Maidstone Rural East County Councillor Shellina Prendergast was asked at last night's Hollingbourne Parish Council meeting for details of Kent County Council's plans to handle any traffic issues which may arise following the departure of the UK from the EU in March 2019 if there is no Customs Union. The UK Chamber of Shipping, the Road Haulage Association, and the Port of Dover have all been reported in the national media as having concerns about Kent traffic issues if there is no Customs Union which would allow vehicles to pass unchecked by Customs.
At the the present time over 10,000 trucks a day go through Dover and many others cross via the Channel Tunnel and pass Hollingbourne at Junction 8 of the M20. EU Commissioner Michel Barnier has predicted gridlock in Dover which suggests that Operation Stack on the M20 back to Hollingbourne could become a regular event because there insufficient facilities for Customs checks on every vehicle at the borders with the result that queues will develop. There is also insufficient parking space at the existing Customs posts for waiting vehicles.
When Operation Stack is in force there are traffic jams in Hollingbourne and across Kent. Councillor Prendergast promised to pursue the matter at County Hall in order to establish how the County Council will manage the situation. She was also asked to ensure that the costs of additional policing and any other related costs do not fall on the council tax payers of Kent and on those in Hollingbourne in particular. It is hoped that some more information will be available for the September Parish Council meeting on 11th September.
Following 35 days of Operation Stack in 2015 when there was traffic chaos across Kent, the Government promised to build a lorry park for 3600 vehicles at Stanton on the M20 between Folkestone and Ashford. Legal challenges have resulted in a Judicial Review at the High Court in London which will start in December 2017. Pending the result of the Review it is unlikely that any lorry park will be ready before Brexit in March 2019 or that it will be big enough as it will only be capable of parking about a third of the average daily vehicle traffic destined for France.
At the same meeting Councillor Prendergast reported that there were serious shortages of school places to the east of Maidstone including Hollingbourne because of the numbers of houses being built in the area. 
Councillor Prendergast who is also a member of Maidstone Borough Council can be contacted at Shellina.Prendergast@kent.gov.uk
Pictured below is local KCC Councillor Shellina Prendergast.
Just as a reminder as to what Operation Stack means for Hollingbourne, the following is reproduced from The Guardian of 28th July 2015:-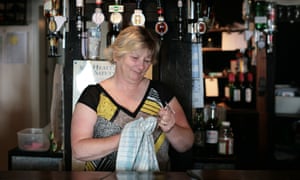 At 2pm on a sunny summer's day at the start of the school holidays Kim Hitch would expect the village pub she owns near Leeds Castle to be bustling with day trippers.
But the Sugar Loaves in Hollingbourne is empty, and the reason is Operation Stack. The picturesque Kent village has seen a dramatic change in atmosphere since the emergency traffic measures put in place by police to ease congestion on the M20 became part of daily life.
"Normally we would have loads of people passing through from Leeds Castle having lunch here, in the middle of the summer holidays," Hitch said. "We should be full, or at least very busy, but there's barely anyone who's come in."
It is not only her business being affected by the measures, under which dozens of lorries are forced to park or "stack" on the motorway, but her quality of life. The narrow roads of the village, which is first mentioned in the Domesday book, were built for horses and carts but now get clogged with traffic trying to avoid the diversions. Hitch said she and her husband had felt unable to leave the village during the busiest periods.
"Nobody can get out. We only leave when it's really important. And you do worry that an ambulance couldn't get in on the busiest days. My husband went to the doctor the other day and a two-minute drive took 35 minutes."
Across the street, Aileen Brown at Eyhorne osteopathic clinic has been juggling cancellations and stranded staff for the past six weeks. "It's making people very angry indeed," the receptionist said. "It's very difficult for patients to get here, they are late, we have to then lose or change appointments, and the owner of the practice also works with animals and she can't get out to her appointments. It's costing a lot. You can get into your car and the traffic doesn't move."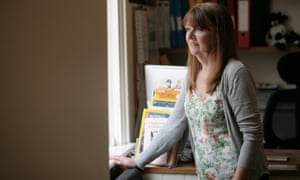 The inability of politicians or local bodies to find a solution is frustrating, she said. "People feel hopeless. We heard this suggestion of a contraflow on the motorway which seemed to have been agreed upon and now that can't happen. I was gobsmacked when I heard that."
At Christopher Rudgard's convenience store on the main road through Hollingbourne, people can talk of little else but Operation Stack.
"It can feel like we're locked in here," the 75-year-old shopkeeper said. "We've seen tailbacks of more than 100 cars. People's blood temperature is certainly hotting up. But it's a mess and there's no easy solution."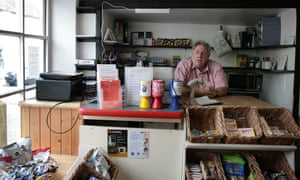 Holding court in the shop he has run for 12 years, several residents popping in for pints of milk nodded their heads as he spoke. "The frustration comes from not knowing any end in sight, this has been going on for about five of the last six weeks," he said. "It's a national problem, affecting the national economy, yet there doesn't seem to be any end to it."
He too is interested in the possible solution of a contraflow system. "That seems to have been kicked into the long grass, though we may yet see them get out the scythes to retrieve it."
For Rudgard's shop, however, the "snowed-in" atmosphere has been good for business, which is his retirement hobby. "People don't want to leave the house so it means people in the village are coming to me more, but if anyone is dependent on passing trade, it's terrible."